Your Online Life and Career Coach
It's been said that the longest distance in the world is the 18 inches between your head and your heart. I work with you to bridge the gap so you can reconnect with your why, discover your desires, and unlock your potential in any area of your personal and professional life.
Let's work together to discover the Path to your Purpose-Filled and Passion-Driven Life.
Are You on the Verge of a Shift in Your Career?
Whether you're just starting your career or are a seasoned professional, career coaching can help you take a bold step forward toward your career goals, whatever they may be.
Are You on the Brink of a Breakthrough in Your Life?
Whether you're in the midst of a transition, at a crossroad, or stuck in the cycle of your current situation, life coaching can illuminate the path back to you and the life you want to live.
The Change Starts Within.
Take Control of Your Life, Personally and Professionally.
It's much easier to want things to change than it is to make the change.

I'm here to guide you as you connect more deeply with the desires within and conquer the fears that are holding you back.
Together, we can find clarity around your goals and unlock your potential so you can walk down the path toward a passion-filled life.
Lost in a sea of visions and desires, unable to find solutions and take action toward your why?
At the crossroad of your life or career but struggle to commit to moving forward one way or another?
Stuck in your current cycle, unsure of how to experience growth, either personally or professionally?
Ready to break away from your comfort zone and embrace the abundance of the unknown?
Find clarity around your vision so you can create a results-driven plan of action.  
Work through the feelings of guilt, self-doubt, and fear that keep you playing small.
Build confidence so you can shamelessly claim your desires and take action toward what you want.
Have someone to walk alongside you, providing guidance and support every step of the way.
Whether you're looking to find more purpose or maximize your potential in your personal or professional life, Finding the right coach can make all of the difference.
Let's walk this beautiful journey and explore the possibilities together.
What Exactly Does a Life and Career Coach Do?
Coaching is all about moving forward. It's about finding clarity around your desires, identifying your obstacles, and making intentional strides toward the person you want to be. Coaching helps turn desires into actionable steps and can bring people into alignment in every aspect of life. 
Coaching isn't about proving answers. Instead, coaching is meant to be a tool to help you achieve the results you're seeking. I'm not here to tell you where to go or what to do. Instead, I'm here to guide you through revealing who you are, what you want, and how to get there. 
Let's explore the possibilities together. 
What to Expect from Your Life and Career Coach
Clarity around your visions and goals, and how to make them a reality?
Accountability, consistency, and commitment as you work toward your goals?
Freedom from your fears of change and the unknown?
Changes in your mindsets that are likely holding you back?
A journey inward, understanding yourself on a deeper level than ever before?
Higher productivity as you work to achieve your goals?
Increased confidence, self-esteem, and self-awareness as you navigate your life?
Are You Ready to Dive DEEP?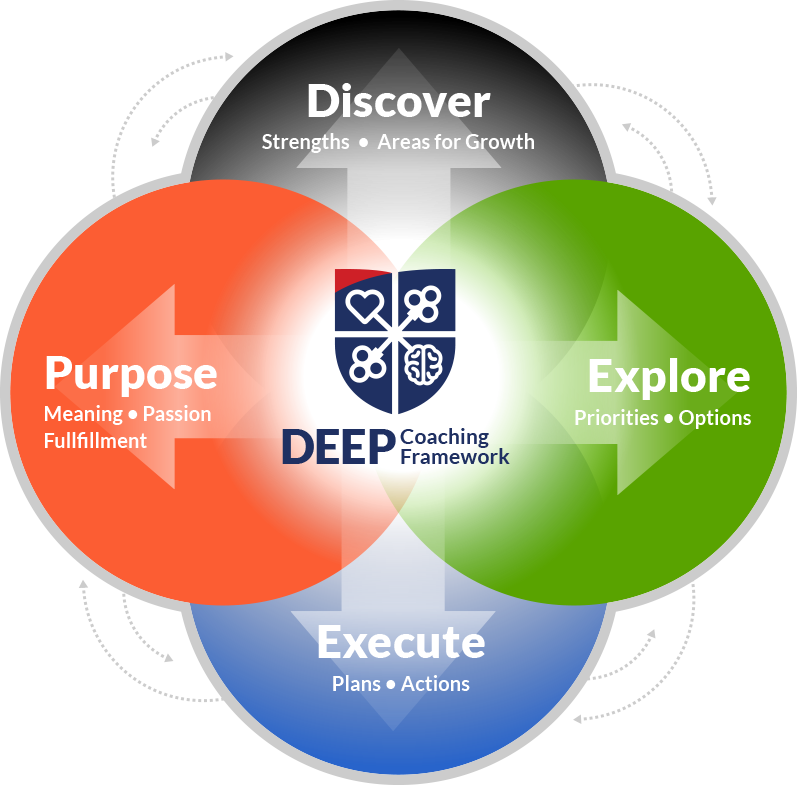 Phase 1: Discover
In this phase, we work to discover who you are. These sessions will be dedicated to self-awareness so you can get to know YOU all over again and understand both your strengths and areas for growth.
Phase 2: Explore
In this phase, we will explore and identify your core values and the facet(s) of your life where you desire change and/or experience obstacles. This is where we begin to develop actionable goals and explore the possibilities around who you are and who you want to become. 
Phase 3: Execute
In this phase, you're ready to move from talking about change to making those changes. This is where we work to uncover the actions you can take toward the goals outlined in phase 2.
Phase 4: Purpose
In this phase, we work to understand how you can continue to use coaching as a tool to help you work toward your future goals and move through future challenges. The goal of coaching isn't to build dependency but to build lifelong tools and strategies you can use through all of life's transitions.
When It Comes to Coaching,
My coaching is designed to fit your needs.
This isn't a cookie-cutter coaching experience. I understand that everyone is unique and so are their needs. That's why I'm committed to a customized coaching plan for each of my clients to ensure they have the best and most effective experience and outcome. Each session is tailored to your needs and pain points. 
I use my signature DEEP framework to dive into your needs and develop the right course of action that will drive results.
Coaching Credentials & Certifications
About Faye
In 1998, I began my professional journey as a global marketing communication specialist in the high-tech industry and later became a real estate entrepreneur, all the while facing the challenge of living a balanced and purposeful life. After digging deep, finding my passions, facing my fears, and embracing the unknown, I found what I had been looking for all along. I found the me I had been searching for. 
In 2012, I took the courageous step to leave my comfort zone and answer my calling of helping others. I began working with young professionals and teenagers as a career and education coach/consultant and I've never turned back. 
I feel a pull toward helping others to live a better, more meaningful life fueled by purpose and filled with passion. I'm here to live my truth by helping you find and live yours.
Coaching Client Testimonials
"After all these years, I took the first step and hired Faye to be my life coach. Faye didn't coach me out of my challenges. Rather, Faye re-inspired me so much that these challenges actually became a series of "surprises" that made this journey even more exciting."
– Spencer L., VP of Product
"During our journey, I was nurtured and pushed beyond my comfort zone; equipped and elevated with new knowledge; empowered and held accountable for the goals I set out to achieve. Having Faye as my life/career coach has made me realize our potential is truly limitless and each one of us is creative, resourceful, and complete. "
– Johnny T., Lead of Creative Services
"Having Faye as my life coach, my strengths and potentials were brought to the light; I not only know about my strengths now, I also have the know-how to utilized them to solve problems that had stuck with me for a long time."
– Serena L., Graduate School Student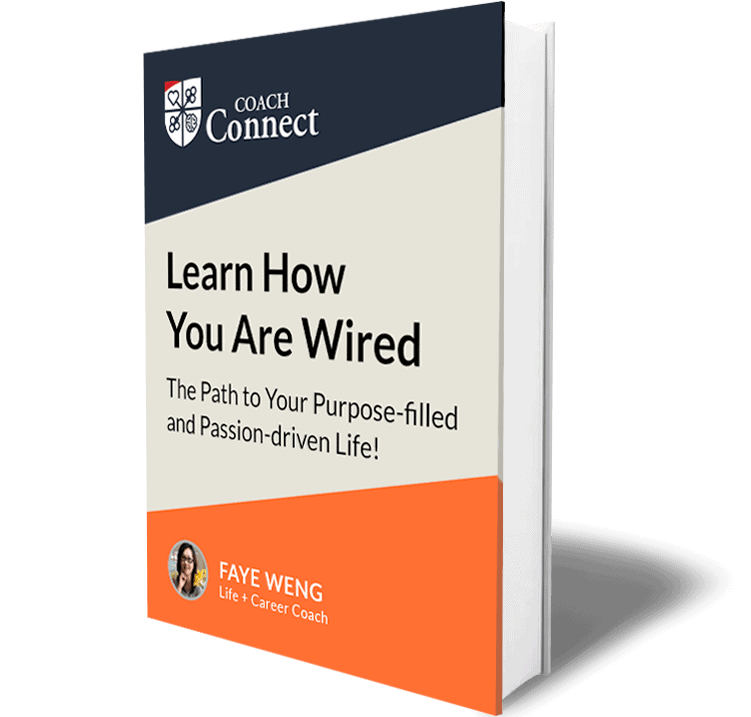 Each of us is wired differently, therefore coaching must be custom-tailored. Take this complimentary self-assessment and start a purpose-filled and passion-driven Life!